Thesis printing
A tailor-made thesis
Personal attention for your thesis
Thesis printing is tailor-made. Since 1993, we have been specialised in printing theses. Experience has thought us that personal attention and a smooth collaboration make the difference. In this important period we are the experienced partner for a suitable end product.
Quality that you experience. We work with thicker papers as standard and print with high-quality techniques. This ensures a quality product. And you notice this.
Writing a thesis is a flexible process. We are organized for this. Therefore, after requesting an offer, do not worry about all specifications. Changes are always possible.
Thesis Printing?
1. Collaboration
Printing your thesis with Ridderprint? Then we will send you all additional information and start planning your project. We will keep you informed at every step so that you know exactly where you stand.
2. Submitting files
You receive instructions on how to create files, and you will receive the addresses you should send the files to. We will check these files for a number of standard aspects. We will give you some feedback for improvement if necessary. If the files are correct, we will send you a paper proof to review. A digital proof by e-mail is also possible and is normally standard in the case of urgent orders.
3. Checking proof print
You receive the proof to check it for content and quality. You will also receive an information card with some explanation about the proof. You can make the necessary adjustments and send us the final documents.
4. Production and delivery
You receive a production confirmation in which you can check the order details. After your approval, we will start the production. After the production, the delivery takes place with an overnight shipment, delivered to the address agreed on, at normal business hours.
Products & Services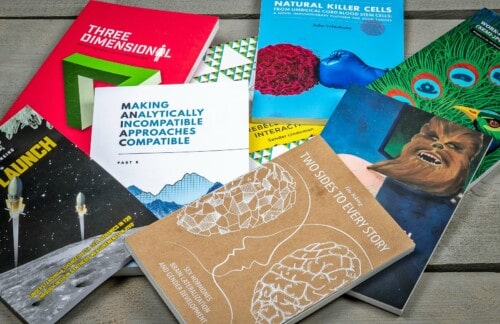 Your thesis is tailor-made. We are the specialist in the design and printing of theses. Together with you we work towards a suitable end product.
View options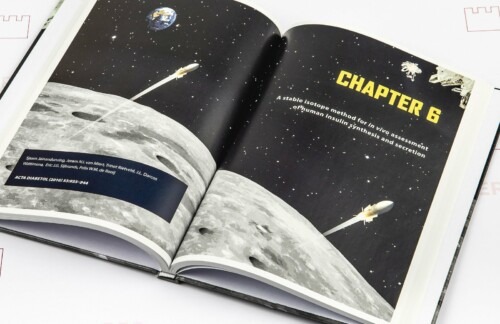 Ready writing your thesis? Now is the time to make your thesis more visually appealing. Our designers are happy to help you further.
View options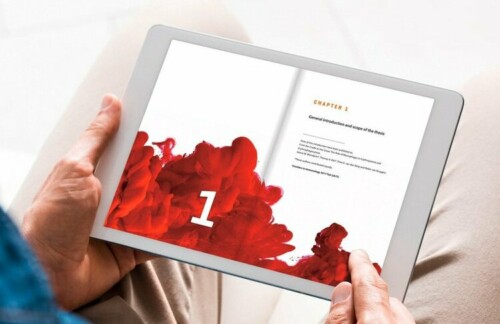 Your thesis up with the times. You can share and read a digital version online on any device. Choose a pdf version or a Flipbook.
View options
Manual
Our manual includes all information you need to get started, for instance the description of processes and tips for submitting your thesis.
Of course, the physical manual is also a showpiece of our company. Additionally, some of the pages have been printed on our standard paper types to help you choose.
You can download it from the link below or request it for free by post.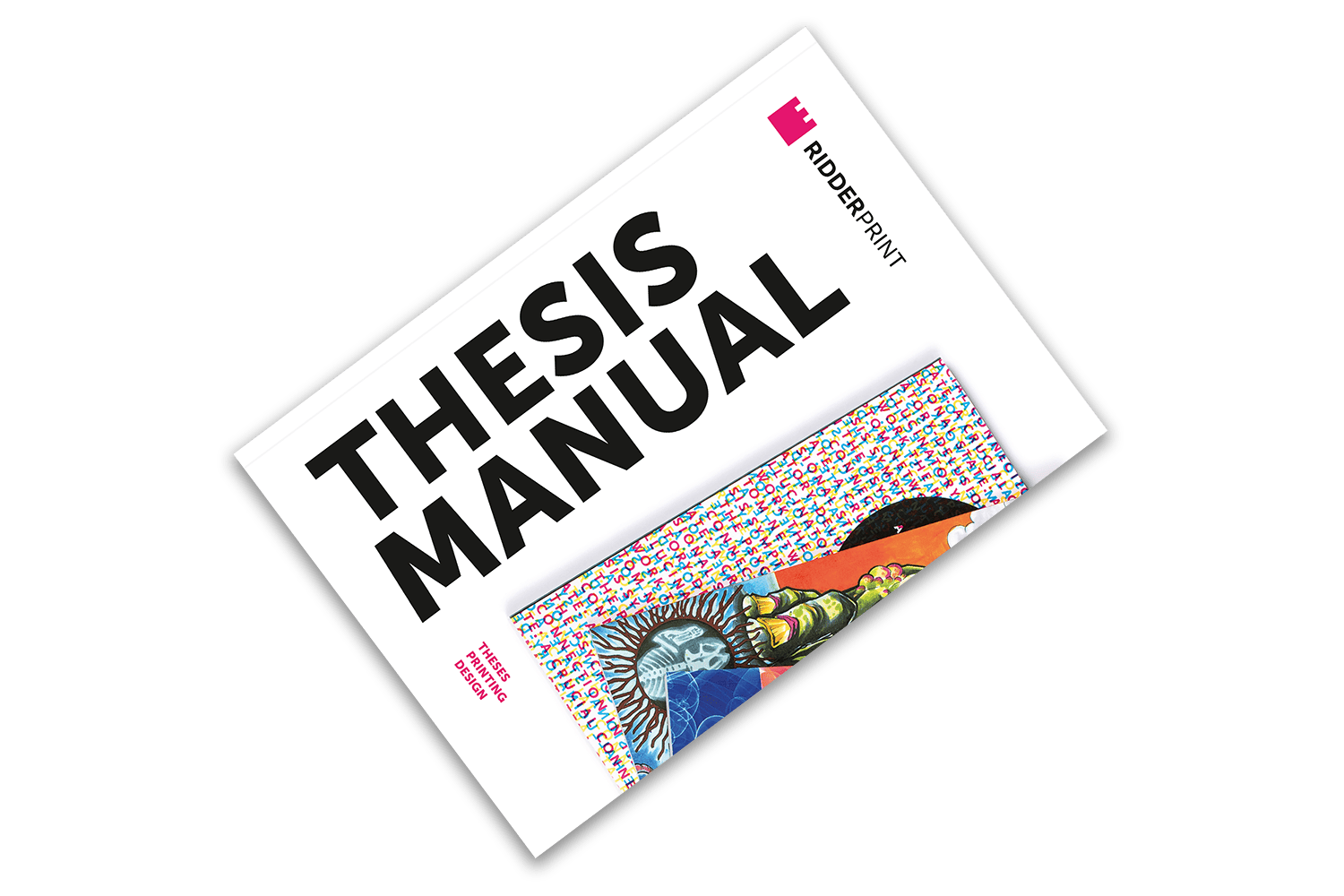 View a planning
This planning tool is based on the average process duration and submitting your own files. This duration may take longer, depending on additional options.
For faster delivery, please contact us.
*A few copies of your thesis have to be submitted three to five weeks before your defense. Consult the promotion regulations on this point.
Personal attention
Promoting is busy enough. Our experienced team helps you with personal guidance and ensure smooth process.
Service and quality
Our specialists help you select the right material for your thesis. We use thicker papers as standard for a premium feel.
On location
Our theses specialists Robert and Anand are happy to visit you on location so that you can view our thesis examples. We also provide informative workshops for collectives, departments and faculties.
What else is possible?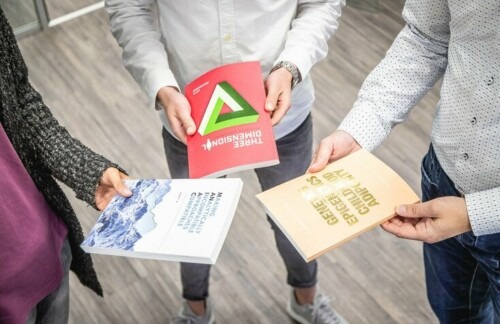 If you want to collaborate with us with more colleagues, there are possibilities for a group discount.

Contact us if you have any questions or if you are interested. You can also ask questions or make comments under 'Comments' on the Offer Request form.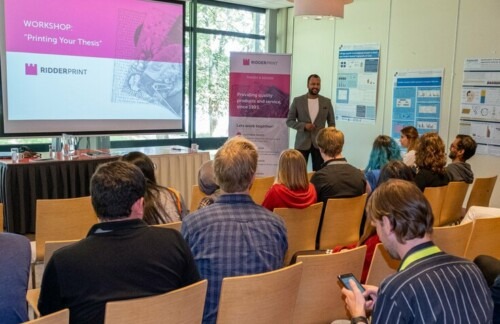 During the workshop we will tell you everything about printing a dissertation and what it involves. We show you what your dissertation can look like and are happy to answer all your questions. And this while enjoying a tasty lunch!

If you are interested, do not hesitate to contact us!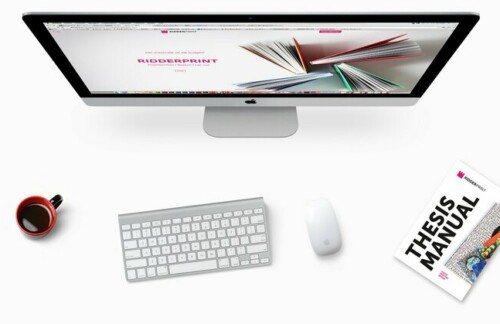 What is the spine thickness of my cover? How do I submit my files? You will find the answers to many of your questions on our customer service page. You will also find tips and useful facts.
View options
Frequently asked questions
How long does the process of printing the thesis take?
The process can take three to five weeks, depending on the specifications of your order and on services like layout and design. Of course this process can be accelerated. For faster delivery, please contact us. On this page, we also provide a tool with which we can give you an indication of the duration of delivery.
When am I eligible for a group discount?
If five or more people have their thesis printed by us, they will be eligible for a group discount. The discount percentage depends on the number of people in the group. Please contact us if you need any further information.
How can I apply for an ISBN?
If you want to register your book, an ISBN will be required. With this number, your book will be listed in a database that is recognised world-wide.
Please state this wish when you apply for the quotation for having your book printed. We will need some information from you in order to be able to submit the application. The costs for this ISBN application are €25, exclusive of 9% VAT.
How do you send and deliver the thesis?
After production, we pack the theses in handy boxes. These boxes are sent by an overnight courier. This courier collects the theses one working day before the delivery date agreed on. On the next day, he will deliver the theses between 9:00 a.m. and 5:00 p.m. The shipment is normally delivered to the University. This is more practical, as someone needs to be present during office hours.
Can I make changes after I have received the proof?
The idea of the proof is that you can check it and make any changes necessary. The time you need for doing this properly is taken into account in the planning. After you have checked the proof, we look forward to receiving your approval for the final files.
Can I view a proof of my thesis?
During the process, you will receive a proof of the thesis. It comes as a paper proof as standard, which you can check for quality and content. In the event of urgent delivery or if you do not have the possibility of receiving a paper proof, we will send you a digital proof in PDF by e-mail. This aspect will be discussed and agreed when your order is planned.
I create the cover myself. How should I calculate the spine width?
What are the options for the look of my thesis?
We have various types of paper for the inside pages and cardboard for the cover. There are also various applications for embellishing the cover. Since the possibilities we offer are many, we have not shown all options in the offer request. If you want to be informed of all options, please contact us without obligations.
With the offer request you can also apply for our manual. Our standard paper types are included as examples. Some applications have been used on the cover of this manual.
Can I have my thesis designed?
You certainly can. On our layout page, you can view our packages.
Where should I send my files?
With your order you will receive login details to our portal, where you can submit the files.
Can I submit my thesis in A4 size?
Of course, you can. We reduce the PDF you submit to 81%, the thesis size of 17 x 24cm. Further details are provided in our manual.
How should I submit my thesis?
If you are making the thesis yourself, we need the files as a PDF. This is explained in our manual. Software and instructions are also available on our customer service page.
If you are interested in a layout, there are different specifications. Look at our layout page for the conditions and options.
What are the costs of having a thesis printed?
The costs for thesis printing depend on your wishes such as print run, number of pages, extra services etc. If you request an offer from us, we will contact you to discuss the costs based on these wishes.
More questions